| Navigation |

HOME

Wild College Spots
The Wildest 20!
Drunk University
Sexy Games
Party Girls
Former Girls
Sex And Beer
Stupid Nakeds
Fuck Finals
The Uncensored
Salpar Babes
Flash Mountain
Brainteaser World
HA HA Humor
Drunken Delight
Way To Many
Laxtime
Kwinkies
Boozin Gear
Idle Riot
College Nite Life
Amateurs Wild
Ebaums WorldDrunk and Disorderly - Another Site - Wasted Network - GOYK
Brown Baggin' It

Written by Kid Bacardi

&nbsp &nbsp &nbsp &nbsp &nbsp I know everyone has been all concerned with the Hurricane Katrina situation. Well I found the sweetest T-shirt yet, Gulf Coast Looters. I know that some people are going to think that that is fucked up, but, well it is. Check them out here and support the cause. If the hurricane really has you down, get a lift with a bottle of absinthe. This shit is so potent that you wont even remember your own name, let alone the name of some storm. Order your bottle today and drown yourself in booze.
&nbsp &nbsp &nbsp &nbsp &nbsp This weekend started out with a bang on Thursday night. We were supposed to have a party at Hufford's place, but there was word that people were looking to bust it. At the last minute we switched the location and relocated all the booze to Scott's place. I headed over there early to start boozing and we started playing hockey. Scott, Nathan, and I were on the same team and we got fuckin smoked. Normally I don't like to lose drinking games, but that night I was happy as fuck because just as the 3rd period was ending, people were showing up and I was well on my way to getting drunk.
I went into the kitchen to check out the booze situation and I was happy to find a bottle of Jagar and a bottle of Goldslauger. I started to take pulls out of the bottles and then went outside to hang out. As we were all standing outside chillin and getting fucked up, somebody looked over to the apartments next door and noticed that two people were fucking right in front of the window with the lights on. Everyone changed their attention to what was going on and in a few quick minutes we all gave them a round of applause. The lights quickly turned off so everyone booed. I started talking to this girl who was telling me how badly she needed to get laid, so I told her that I would hook her up. We bullshitted for a while and then I went to go find Scala and the bottle Goldslauger. We quickly finished the bottle and I went from buzzin to faded. The party was starting to slow down and we all wanted to go to the bar so Scott herded everyone out of his place and locked the door. We walked over to GII and I talked some girl into buying my drinks. She ordered the first round and I hung out with her for a while so I didn't look like a dick. After a while I decided that I needed a shot, and since I knew the bartender that started her tab, I just threw it on. After that everything started to fade in and out so I headed to Wise Guy's for a slice of pizza and then home to pass out for a few hours before I had to go to work.
&nbsp &nbsp &nbsp &nbsp &nbsp Friday at work sucked ass. We were moving into a new building across the fucking street and it was supposed to be a half day. It turned out that we were all set up by 1:00 but ended up stay to do nothing till 3:30 (at least I was getting paid). After work Paul and I got right to drinking. The theme spread and Frat-tastic Friday was getting underway. At 5:00 we decided that a power hour was in order so everyone grabbed shot glasses and we got started. By 6:00 we were all pretty much tanked and out of beer. Somebody ran to the store for a few more cases and we started playing bags. Stadel and I were rolling people, but after 10 straight wins we took a dive just as it was starting to rain. Everyone headed back inside and then a bunch of girls started showing up. We decided to do another power hour around 9:00. By this time we were all fucked up and then Tomasz started mixing hurricanes. They were strong as fuck and I was take pull in between shots of beer. As the hour came to a close, I was shit faced and stumbling around the house just bullshitting with everyone. The next thing I knew, I was waking up in my bed Saturday morning with no idea how I got there.
&nbsp &nbsp &nbsp &nbsp &nbsp Saturday morning, we had some carwash set up. I rolled in an hour late to find out that they hadn't washed a single car. We decided to wrap that shit up and head home. Wine trails seamed like a good idea for the day so a bunch of us head out to pound some wine. Scala and I both decided that we needed to get the wine with the most alcohol in it so we decided on port wine. This had 18% compared to the 9% that was in the other wines. Scala decided that he needed to throw his bottle in to bag and drink like a wino. The wine was okay, but we still managed to be those guys with a bunch of older people around. After a few bottles each, we started to get a little rowdy and the next thing we knew, there were a bunch of old people talking about the shocker. Brian busted out the curtsy shocker, where you lick you pinky before insertion. This was a big hit with all the old people, so we kinda blended our two groups together. Since the winery closed at 4:00, Brian came out sporting four more bottles right before they stopped serving. We decided that it would be a great idea to just helicopter the last four bottles and then take off. Between the 10 people who where out there, we ran through 26 bottles in about 2 hours, I would say that we were good to go.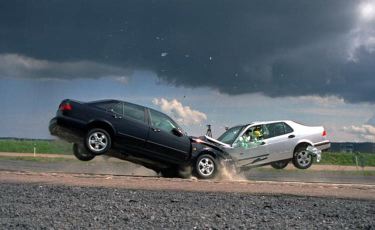 We all jumped in our cars and took off. I was passed out in Tomasz's car and woke up in the driveway at the house with the airbag in my lap. Turns out, I slept through two accidents with no seatbelt on and bounced off the airbag. I guess being drunk saves lives. After getting back to the house a figuring out what was up Tomasz turned himself in and some asshole cops walking into my apartment to drag me out of bed. They took my ID and asked me what had happened. I let them know that I was asleep and don't remember anything and unless they were planning on charging me with something I wanted my fuckin ID back. After getting my shit back, I headed back to sleep. I slept till about midnight, and my shoulder felt so bad that I had to go to the bar to start drinking. I got shitfaced and hung out for after hours for a while. I smoked with some girl and then headed to Denny's to cap off the night. All in all a crazy ass weekend that I probably shouldn't survived. I would have been pissed if that had been my end, I need something way crazier to take me out.


---
Archives Page
HOT College Sites
Adult Search

Cheerleaders that auditioned for the team recently ;)